Oklahoma Landscaping Turf & Artificial Grass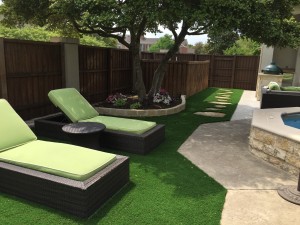 Did you know that watering your lawn accounts for approximately 70 percent of your water bill every month? In addition to the monetary costs associated with natural grass lawn upkeep are the countless hours spent fertilizing, mowing, and tending to other lawn maintenance tasks. Lawn mowers cost money to run and professional landscaping services are even more expensive to use.
Take control of your free time, cut your monthly expenses and enjoy your lawn all year round without worrying about extreme weather or temperatures. SYNLawn® Oklahoma gives you the freedom to appreciate your home like never before by upgrading your landscaping to include one of our premium blends of synthetic grass and installations.
Sit back and relax on your perfectly manicured artificial lawn while watching your neighbors struggle to keep their grass green and maintained. We carry a wide variety of synthetic grass blends to choose from and we are confident that you will find one you will love. SYNLawn® Oklahoma's landscaping turf is extremely durable and stands up against high foot traffic from both humans and pets. It is so highly regarded that it is used at the Wynn Las Vegas resort, the San Diego Zoo, Disneyland and colleges across the country.
Conserving money and water are of the utmost importance to the residents in Oklahoma City, Tulsa and the surrounding areas. Our artificial turf allows you to cut your water bill by as much as two-thirds while also eliminating the time and money it takes to mow, seed, fertilize and weed your lawn.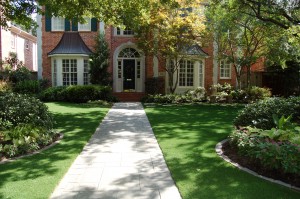 Your fake grass does not need to have a fake appearance. Lesser-quality brands of artificial grass are overly green, have a waxy feeling or, even worse, can make you feel itchy. Our design team works with you to integrate the natural features of your existing landscape, including trees, pavers, shrubs, etc., for a seamless appearance. We use only the highest-quality materials to create more than 40 varieties of artificial grass that look and feel so real you will forget it is fake!
Contact one of our design team members today for a free design consultation. We take the time to meet with you in person to discuss your landscaping concerns and needs. You can trust our products, warranties and installations to know that your design will become a reality right before your eyes!
Residents who are tired of wasting their time working on a lawn that never seems to look perfect and who are fed up with high maintenance bills are encouraged to call SYNLawn® Oklahoma today. Stop struggling and start enjoying a maintenance-free, gorgeous green lawn today. We proudly service the following areas:
Tulsa | Edmond | Oklahoma City | Riverside | Union | Jenks | Enid | Stillwater | Norman | Owasso | Oak Tree | Rose Creek | Deer Creek | Gaillardia | Nichols Hills
Our Residential Photo Gallery